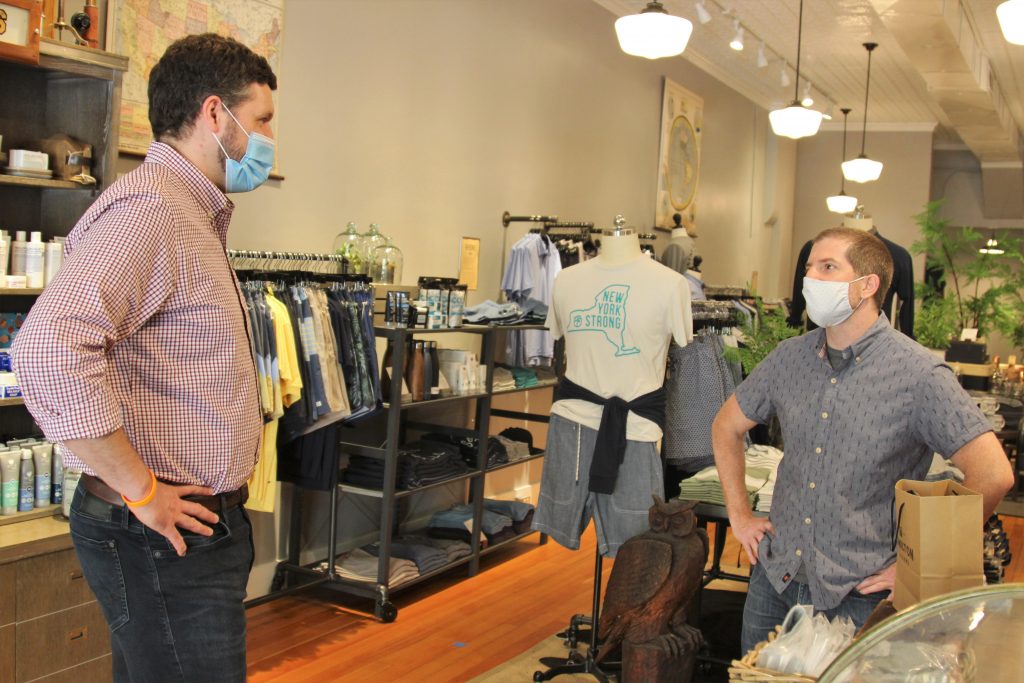 KINGSTON, N.Y. – Ulster County Executive Pat Ryan today visited Hamilton & Adams in uptown Kingston and participated in-store pickup which started on Tuesday through New York State's Phase 1 reopening plan. Additionally, County Executive Ryan reminded Phase 1 Businesses about the current reopening guidance and offered assistance through the Ulster County Department of Economic Development.
"I am excited that the Mid-Hudson region has met the New York State threshold to start reopening. We have been preparing for this moment for a phased safe reopening for several weeks now, and I am confident that if we all work together we can and will reopen safely," County Executive Pat Ryan said. "As a former business owner, I understand the challenges our local businesses face under regular circumstances and now more than ever we must help our business owners by providing them the tools needed to open their doors in a safe and responsible way. My office and the Office of Economic Development are committed to working with our business community to ensure a smooth and safe reopening."
"We are excited to start reopening safely. We have missed our community and are looking forward to connecting again soon," Co-Owner of Hamilton & Adams Andrew Addotta said. "We appreciate the help from the Ulster County Department of Economic Development who have helped guide businesses throughout our area to prepare to reopen safely."
Retail businesses providing curbside and in-store pickup should stay up to date with any changes to state and federal requirements related to retail activities and incorporate those changes into their operations. Curbside and In-Store Pickup Retail Guidelines for Employers and Employees can be found here. 
Phase One businesses include:
Construction
Agriculture, Forestry, Fishing and Hunting
Retail – (Limited to curbside or in-store pickup or drop off)
Manufacturing
Wholesale Trade
Ulster County businesses are encouraged to reach out to the Ulster County Department of Economic Development and to visit NY Forward for updates about re-opening. 
All businesses in New York State will be required to develop their own safety plans before reopening, in alignment with Governor Cuomo's NY Forward Plan. According to guidance released by the Ulster County Office of Economic Development, the 56 industry category sectors included in the Phase 1 reopening should begin preparing now so they may safely and legally reopen once the Pause is lifted in the Mid-Hudson region.
While plans do not have to be submitted to New York State for approval, they must be retained on the premises of the business and be made available to the New York State Department of Health (DOH) or local health or safety authorities in the event of an inspection.
Safety plan templates are available by visiting https://forward.ny.gov/industries-reopening-phase and guidance and resources specific to Ulster County can be found at https://covid19.ulstercountyny.gov/businesses/ 
There are currently 1706 confirmed cases of COVID-19 and 75 fatalities in Ulster County.
For additional information about COVID-19 visit: https://ulstercountyny.gov/coronavirus
Ulster County COVID-19 Hotline: 845-443-8888
845-443-8888 NYS Coronavirus Information Hotline: 888-364-3065
###
Photo: Ulster County Executive Pat Ryan and Andrew Addotta at Hamilton & Adams