THERE ARE CURRENTLY NO APPOINTMENTS AVAILABLE, Please sign up for our Vaccine Notification List and we will inform you when appointments are opened. – March 1, 2021
As you may know, we are in the process of vaccinating eligible residents. Ulster County has the capacity to distribute up to 50,000 vaccines a month. However, due to a severe shortage of supply from the federal government, we have far fewer doses than anticipated. There are currently no appointments available for the Ulster County vaccination sites. The demand greatly exceeds the supply apportioned to the County by New York State. As more supply becomes available, we will open more appointments and notify those via email who have signed up on our Vaccine Notification Form and will post the updates on our website, Facebook, and Twitter accounts.
Limited amounts of COVID‐19 vaccine will be available during the first phases of the COVID‐19 Vaccination Program in New York. The New York State Department of Health (NYSDOH) has developed a prioritization and allocation framework based on guidance from the Centers for Disease Control and Prevention's Advisory Committee on Immunization Practices (ACIP).
COVID-19 Vaccine High-Risk Priority Groups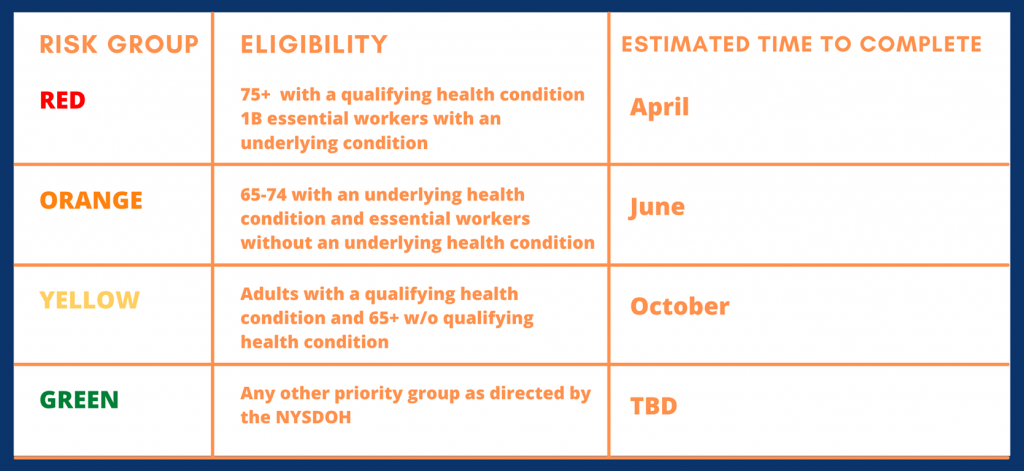 ---
The Ulster County Department of Health (UCDOH) is currently operating two Points of Dispensing (PODs) for the COVID-19 vaccine BY APPOINTMENT ONLY as the vaccine is available: one at the Kate Walton Field House on the Kingston High School campus and a second on the campus of the Ellenville High School.
If you would like to be notified when appointments are available, please fill out the Vaccine Notification Request form.
If you have any questions about a currently scheduled appointment or need help with online access, please call the Ulster County Recovery Service Center (RSC) (845) 443-8888.
For general questions about the vaccine, please see our Vaccination FAQ.