Please sign up for our Vaccine Notification List and we will inform you when appointments are opened. – May 16, 2021
All people over the age of 12 who live, study, and/or work in New York State are eligible to be vaccinated against COVID-19. Ulster County has the capacity to distribute up to 50,000 vaccines a month, and vaccine supply is being apportioned to the County by New York State. As appointments becomes available, we will notify those via email who have signed up on our Vaccine Appointment Pre-registration Form and will post the links below, as well as to the County's Facebook, and Twitter accounts. The County is also now offering walk-in clinics.
Interested in Hosting a Vaccination POD?
---
We are holding COVID-19 vaccine clinics at the following locations and dates. Please register for an appointment with the following links:
Please note: 2nd dose clinics are automatically scheduled through the CDMS system. Moderna vaccine 2nd dose clinics will be scheduled for 28 days later. Pfizer vaccine 2nd dose clinics will be scheduled for 21 days later. Please only register for a 1st dose appointment when you can make both 1st and 2nd dose clinic dates.
If the link takes you to a screen that says "No Appointments Available," it means that all appointments have been filled. We will post new links each week as new vaccine clinics are scheduled, based on our allocation from the State that week.
The link works best with the Google Chrome browser. On the final page of the registration, it will say "print this page" or "done" and will confirm the appointment is done. Bring your printed/screenshot registration ticket and an ID that shows proof of eligibility (age).
If you would like to be notified when appointments are available, please fill out the Vaccine Appointment Pre-Registration form.
---
The Ulster County Department of Health (UCDOH) is currently operating Points of Dispensing (PODs) for the COVID-19 vaccine as it is available. The POD at the Kate Walton Field House on the Kingston High School campus was relocated to the old Best Buy location in the Hudson Valley Mall in Kingston/Town of Ulster the week of 3/18/2021.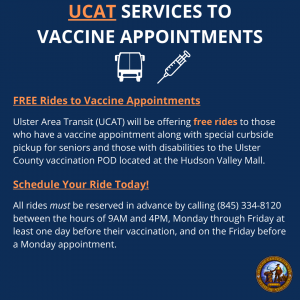 If you have any questions about a currently scheduled appointment or need help with online access, please call the Ulster County Recovery Service Center (RSC) (845) 443-8888.
For general questions about the vaccine, please see our Vaccination FAQ.