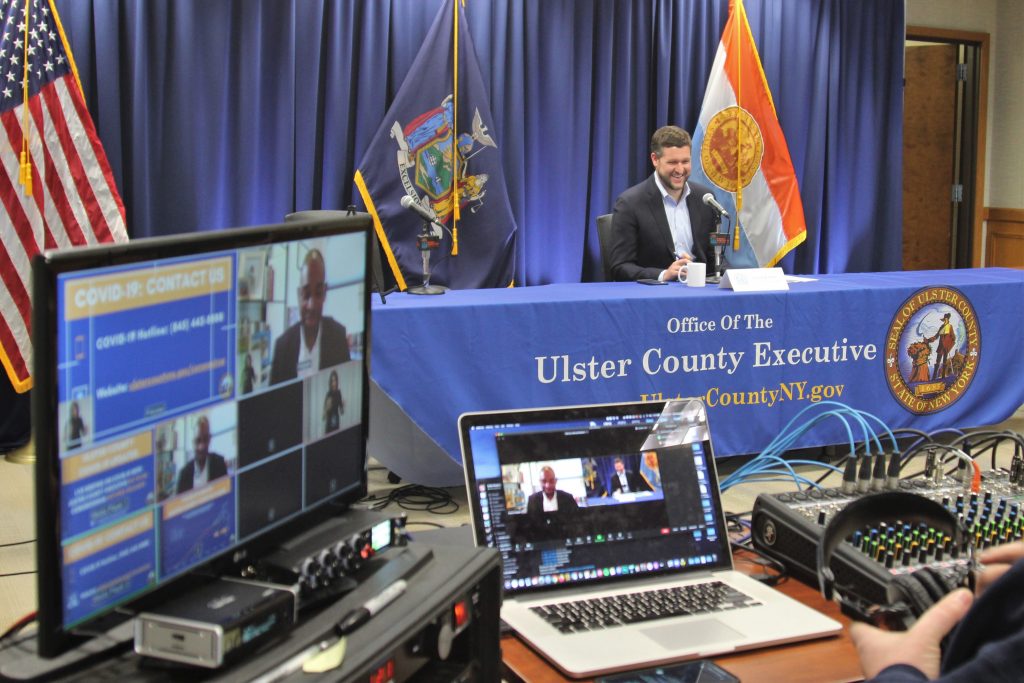 County Executive Ryan and Congressman Delgado directly take residents questions and share federal and local resources for residents
KINGSTON, N.Y. – County Executive Pat Ryan held a Facebook Live Town Hall today with Congressman Delgado (NY-19) to update and inform residents on Ulster County and Congress' response to COVID-19. With over 6,000 viewers, County Executive Ryan and Congressman Delgado received over 200 questions from residents ranging from assistance for small businesses to support for nursing homes. 
"This is how government should work. Leaders at every level cooperating and working to help people in moments of crisis," County Executive Pat Ryan said. "I want to thank Congressman Delgado for joining us and speaking to our shared constituents. I am looking forward to continuing our work to protect the health and safety of our residents."
"For months, our state and local governments have been fighting on the front lines to support our communities' response to this pandemic," Rep. Antonio Delgado said. "I was glad to join Ulster County Executive Pat Ryan to discuss the urgent need to include assistance for local governments in future legislation, including my bipartisan bill to ensure every community, regardless of size, receives federal coronavirus funding. Our government works best when we are synced and responsive to the needs on the ground. I'm grateful for the opportunity to join today's conversation and know we will continue to work together to advocate for upstate priorities."
In response to early projections showing a 10% decline in revenue for Ulster County due to COVID-19, County Executive Pat Ryan published an op-ed in the Albany Times Union calling for direct federal assistance to communities working to combat the pandemic. 
Last week, Congressman Antonio Delgado announced new legislation, the Direct Support for Communities Act, which provides local governments with direct federal relief that can be used to pay for essential services and offset lost revenues and increased costs from the COVID-19 emergency.
There are currently 1,505 confirmed cases of COVID-19 and 58 fatalities in Ulster County.
To watch the Facebook Live Town Hall, please visit:
For additional information about COVID-19, please visit: https://ulstercountyny.gov/coronavirus
Ulster County COVID-19 Hotline: 845-443-8888
NYS Coronavirus Information Hotline: 888-364-3065
###