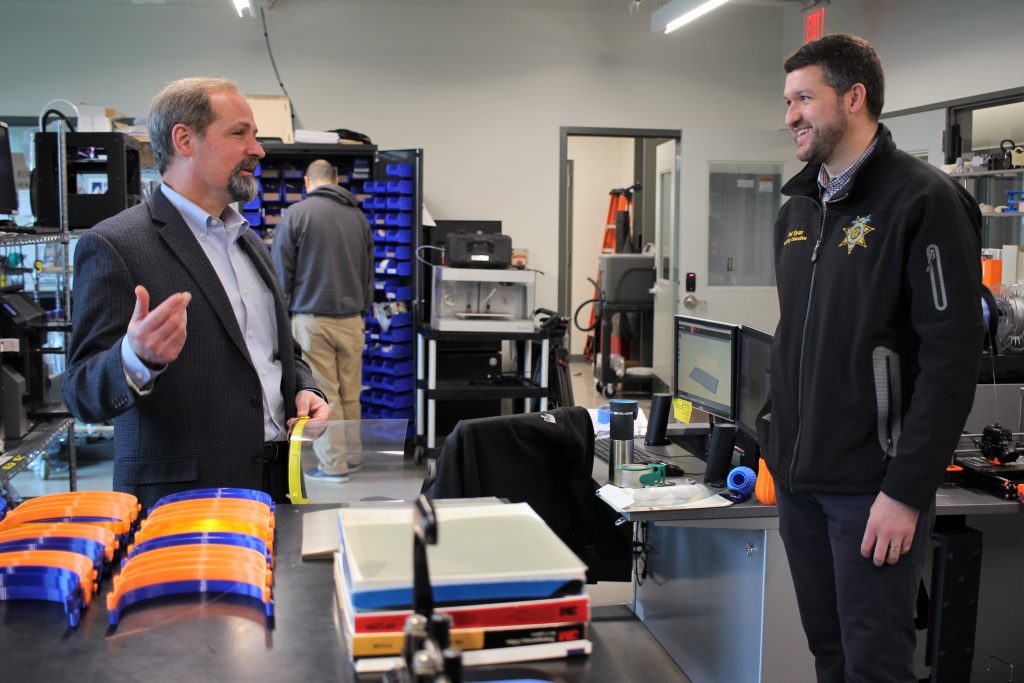 The partnership between Ulster County Executive Ryan and SUNY New Paltz has provided over 1,000 face shields for regional health care workers and others on the front lines of COVID-19
KINGSTON, N.Y. – County Executive Pat Ryan today toured the Hudson Valley Additive Manufacturing Center at SUNY New Paltz where the college and the County have partnered to utilize the center's 3D printers to produce 3D-printed face shields for local health care workers and others at the front lines of the COVID-19 crisis. Since standing up this initiative, 1,000 face shields have been produced and donated to health care facilities and medical personnel at Ulster County drive-through mobile testing sites. Once fully ramped up, the facility has the capacity to produce 500 face shields per day.
"I'm so proud of how our entire community has stepped up and this project exemplifies the resilience that will get us through this crisis," County Executive Pat Ryan said. "Seeing the looming shortage of PPE, I put out an urgent call for innovative locally sourced solutions. I can't thank SUNY New Paltz enough for answering that call."
"All the staff at the Hudson Valley Additive Manufacturing Center are very pleased to be able to work with Ulster County to fabricate and distribute face shields to the medical staff and first responders who are the real heroes in this situation," Director of the Hudson Valley Additive Manufacturing Center Dan Freedman said.
"IBM is using its resources in the Hudson Valley and beyond to support our community, healthcare providers, and local Ulster County government," Vice President, Enterprise Systems and Technology Development, IBM Systems John Acocella said. "We have tremendous expertise in manufacturing and computer hardware and software development and are working at full speed to help, because every moment counts."
Within a week of starting this initiative, it has received broad support including numerous local businesses, school districts, libraries, and universities including Rensselaer Polytechnic Institute, SUNY Polytechnic Institute, and Ulster County Community College. IBM is partnering to provide engineering and design work. Significant funding to cover all of manufacturing costs associated in the production of these shields has been provided by the NoVo Foundation and Central Hudson Gas & Electric.
Earlier this week, it was announced that Ulster County will add 235 beds at the Mary's Avenue campus of HealthAlliance to treat COVID-19 patients. Additionally, County Executive Ryan is working to develop detailed plans for further hospital and treatment capacity.
County Executive Ryan yesterday opened the second Ulster County drive-through mobile COVID-19 testing site located at Ellenville Regional Hospital. The new location will be open five days a week and will continue to increase testing capacity in Ulster County. Last week, County Executive Ryan announced the opening of a drive-through test site located at TechCity which tested over 600 people in its first week of operation.
There are currently 215 confirmed cases of COVID-19 in Ulster County.
For additional information about COVID-19, please visit: ulstercountyny.gov/coronavirus
Ulster County COVID-19 Hotline: 845-443-8888
NYS Coronavirus Information Hotline: 888-364-3065
###
Photo: (From left to right) Director of the Hudson Valley Additive Manufacturing Center Dan Freedman and Ulster County Executive Pat Ryan.