Ulster County Department of Health has a COVID-19 vaccine Point of Dispensing (POD) at the former Best Buy in the Hudson Valley Mall, and is offering vaccinations at other locations around the County in pop-up PODs. Use the links below to register for an appointment. Walk-ins are available but can not be guaranteed. Additional appointments will be posted as they become available. Please check back.
Things to Know Before You Go:
Bring your CDC vaccine card to your second, additional, or booster dose appointment.

If you've misplaced your card, call the Ulster County Recovery Service Center (RSC) at (845) 443-8888 to request your NYSIIS report.

Fill out the State's attestation form.

You can either do this prior to your appointment and bring it with you, or be prepared to fill it out on-site.

Due to high demand for the booster, appointments are strongly recommended. Walk-ins are available but not guaranteed.
Pediatric PODs are by appointment only. Patients must be accompanied by a parent or legal guardian. (Please note that if you are a court appointed legal guardian, you must bring legal guardianship paperwork to each vaccination appointment.)
Due to the Memorial Day Holiday, there will be no apppointments for Saturday, May 28th. Appointments are available Wednesday May 25th from 2pm to 7pm.
Children's Vaccine 5-11
Pfizer
Moderna
Johnson & Johnson/Janssen
---
Eligibility Requirements:
All people over the age of 5 are eligible to be vaccinated against COVID-19.

Moderna and Johnson & Johnson are approved for ages 18+

mRNA 1st boosters are approved for people who are at least 5 months past their second dose of Pfizer (ages 12+) and Moderna (ages 18+). It is recommended that people who received a Pfizer or Moderna series receive a booster of the same vaccine.
mRNA 2nd boosters are approved for people who are at least 4 months past their 1st booster of Pfizer (ages 12+) and Moderna (ages 18+) and either aged 50+ or aged 18+ and moderately to severely immunocompromised. (See specific criteria set by the CDC and approved by the NYS Department of Health).

Currently, the recommendation is to receive an additional dose of the same mRNA vaccine as the one previously received.

Johnson & Johnson/Janssen 1st boosters are recommended for anyone 18+ who is at least 2 months past having received the vaccine. 2nd boosters of this vaccine are not yet approved.
Mix-and-match boosters: Some research indicates that an mRNA (Pfizer or Moderna) vaccine booster may benefit those who received a single dose of the Johnson & Johnson vaccine. Any FDA-approved COVID-19 vaccine can be used for the booster dose. Consult your doctor to determine what's the best option for you.

Answers to FAQs:
Second dose appointments are automatically scheduled for those vaccines which require two doses, however, second doses may also be administered as a separate walk-in or appointment at the Best Buy POD.
If the link takes you to a screen that says "No Appointments Available," it means that all appointments have been filled. More appointments will be posted as they become available. Please check back.
The link works best with the Google Chrome browser.
On the final page of the registration, it will say "print this page," "register" or "done." Clicking that will confirm the appointment is done. You should receive a confirmation email and/or text when the appointment has been successfully made.
---
The COVID-19 vaccine is also widely available at multiple convenient locations throughout the County (see the links below for locations).
---
---
Ulster County Vaccine Services:
Ulster County is looking for medical volunteers to help distribute COVID-19 vaccines. Volunteer to help with vaccinations using the button below.
To ensure the vaccine is accessible to as many residents as possible, especially to those who are homebound or may have challenges traveling to walk-in clinics, the County is offering an In-Home Vaccination Program and free rides on UCAT buses to area vaccine appointments.
We periodically send out updates about our vaccination efforts. Sign up for the mailing list using the button below.
Volunteer to help Vaccinate Ulster
Need a Vaccination Appointment at Home?
Stay informed with the latest Vaccine Info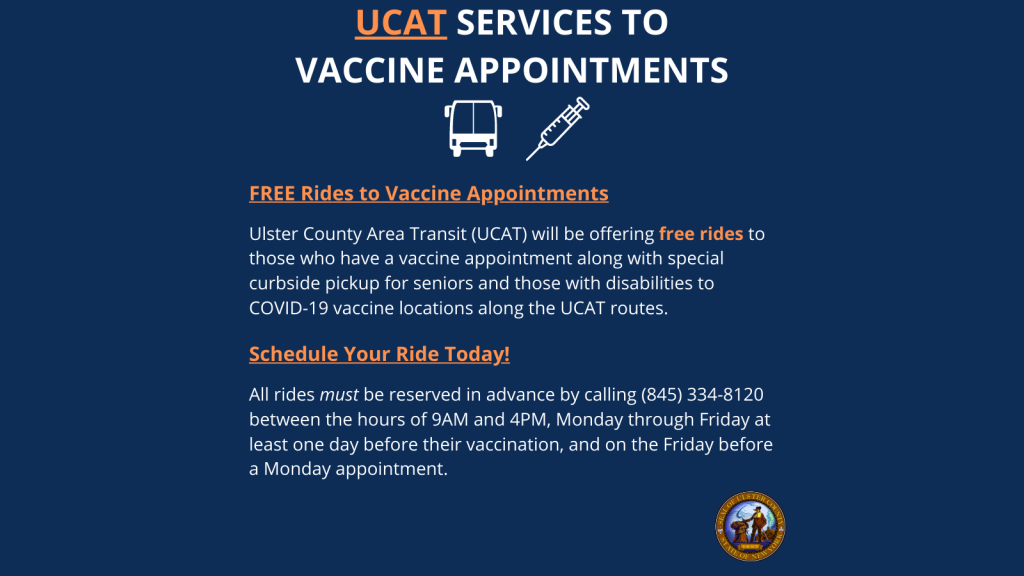 ---
For more information, please call the Ulster County Recovery Service Center (RSC) (845) 443-8888 and see our Vaccination FAQ.