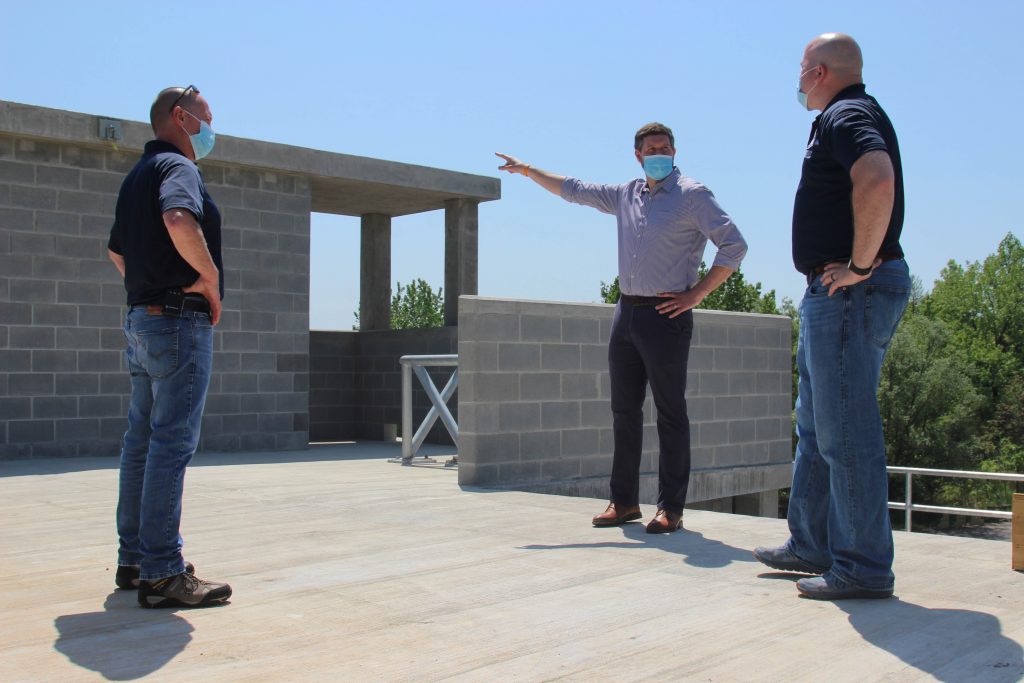 TOWN OF ULSTER, N.Y. – Ulster County Executive Pat Ryan toured the newly completed Public Safety Training Center on Ulster Landing Road in the Town of Ulster. At over 5,200 square feet, the new facility features 13 burn rooms and five forced entry doors. Additionally, firefighters will have the opportunity to do rooftop training, rope rescue operations, and a car fire prop. The project, a new three-story state-of-the-art burn facility, was completed ahead of schedule and under budget.
The Public Safety Training Center will also provide additional hands-on training equipment that has previously been unavailable within Ulster County which has led to local volunteers having to travel to other facilities throughout New York State. It will also be available to other first responders and law enforcement personnel for training on a growing range of emergency scenarios that they confront in the line of duty.
"Ulster County's firefighters and first responders risk their lives to protect the lives of others," County Executive Pat Ryan said. "It has been years in the making, and not without bumps in the road, but I am proud that we have created this state of the art facility that will help our first responders and that it was completed on time and under budget."
The County will also be entering into a use agreement for the Public Safety Training Facility with SUNY Ulster. All of the County's 50 independent fire districts and departments, in addition to other emergency service and law enforcement agencies will have access to this facility. The new training facility will complement the educational component/classroom training opportunities currently housed in the Captain Jack Rose Memorial Lecture Hall at SUNY Ulster.
"This new facility is among the finest in New York State," Everett Erichsen, Ulster County Fire Coordinator said. "It is vital that we provide them with the best possible tools and programs in order to grow with changes in the fire service. The Public Safety Training Center will equip our local service members with the highest quality of training, which will enhance performance and save lives."
"I'm excited that the Ulster County Public Safety Training Center has been completed and our hardworking volunteers finally have a safe, state of the art facility for their lifesaving training," Minority Leader Ken Ronk said. "When the emergency tones go off, they leave their homes to protect life and property, and the absolute least we can do is ensure that they are properly prepared to face the life and death situations that they face while protecting all of us. I appreciate the partnership with the County Executive's office, and the leadership of the Ulster County Fire Advisory Board, Department of Emergency Management, and all of the valued partners that have worked together to make this day a reality."
"The complexity of firefighting and other emergency response is unlike the past, making easy access to high quality training paramount to keeping our residents safe," Law Enforcement and Public Safety Committee Chair Eve Walter said. "I am excited about the educational opportunities that this training center provides us."
###
Photo: (From Left to Right Director of Emergency Services Steven J. Peterson, Ulster County Executive Pat Ryan, Ulster County Fire Coordinator Everett Erichsen tour the Ulster County Public Saftey Training Center)