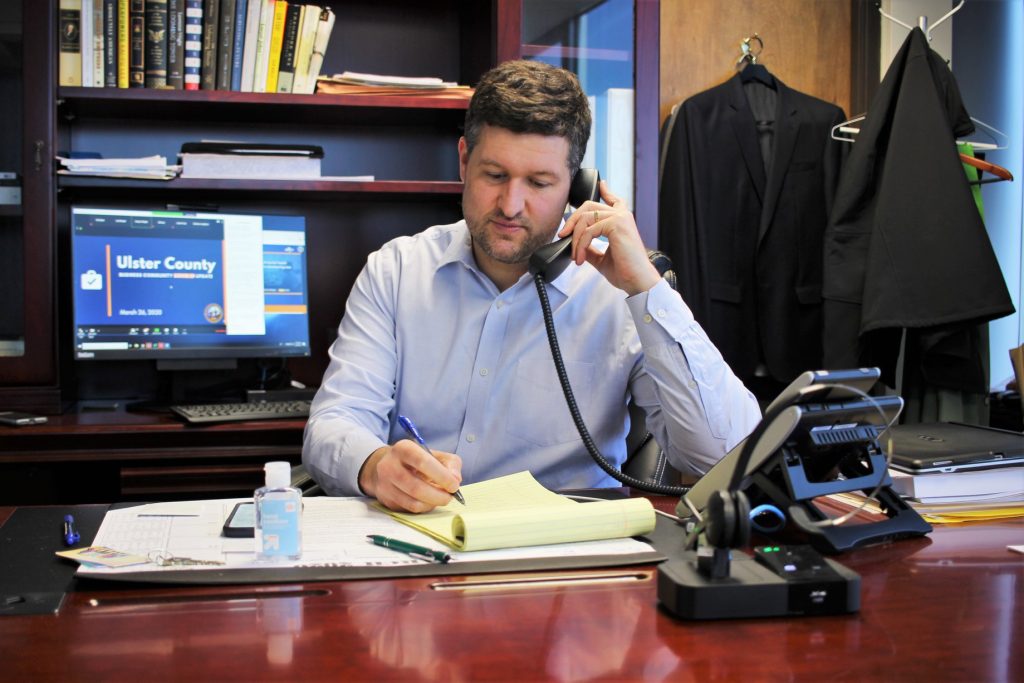 County Executive Ryan held a small business webinar today joined by over 300 business owners updating them on how businesses can prepare to safely re-open
KINGSTON, N.Y. – Ulster County Executive Pat Ryan today held his fourth small business Town Hall since the outbreak of COVID-19. He was joined by over 300 business owners to update them on the county's response to COVID-19 and how businesses can prepare to safely re-open. Ulster County Executive Ryan has also proclaimed this Saturday, May 16, as the second "Shop Ulster Saturday," in a joint effort with the Ulster County Regional Chamber of Commerce to support business impacted by COVID-19 by purchasing online gift certificates.
"Running a business can be a challenge under regular circumstances and now more than ever we must help our business owners by providing them the tools needed to open their doors in a safe and responsible way once New York State allows us to," County Executive Ryan said. "I am proud of the progress Ulster County has made toward meeting Governor Andrew Cuomo's guidelines for Phase One opening, but the Mid-Hudson Region as a whole still has work to do before the State will permit anyone to reopen. My office and the Office of Economic Development are working non-stop to meet the needs of our business community and we stand ready to help ensure that our businesses can reopen in a safe and responsible way."
"Thank you County Executive Ryan for your commitment to local small businesses and helping them prepare to open once it is safe to do so," Ulster County Regional Chamber of Commerce President Ward Todd said. "While we wait for the safe moment to reopen, now is the time to roll out your virtual red carpets and welcome online shoppers, either through special incentives, BOGOs, or anyway you can make it easier for shoppers to buy your goods, products, or services."
Ulster County businesses are encouraged to reach out to the Ulster County Department of Economic Development and to visit NY Forward for updates about re-opening.
All businesses in New York State will be required to develop their own safety plans before reopening, in alignment with Governor Cuomo's NY Forward Plan. According to guidance released by the Ulster County Office of Economic Development, the 56 industry category sectors included in the Phase 1 reopening should begin preparing now so they may safely and legally reopen once the Pause is lifted in the Mid-Hudson region.
While plans do not have to be submitted to New York State for approval, they must be retained on the premises of the business and be made available to the New York State Department of Health (DOH) or local health or safety authorities in the event of an inspection.
Safety plan templates are available by visiting https://forward.ny.gov/industries-reopening-phase and guidance and resources specific to Ulster County can be found at https://covid19.ulstercountyny.gov/businesses/
Earlier this week, Ulster County Executive Pat Ryan relaunched the Ulster County COVID-19 Dashboard which allows users to see where Ulster County and the broader Mid-Hudson Region stand in relation to Governor Andrew Cuomo's phased reopening plan.
Currently, Ulster County meets 7 of 7 and the Mid-Hudson Region meets 5 of the 7. The Mid-Hudson Region includes Dutchess, Orange, Putnam, Rockland, Sullivan, Ulster, and Westchester counties. Under Governor Andrew Cuomo's plan, regions that meet all 7 criteria are allowed to open certain businesses. The Phase One reopening plan would allow for construction, manufacturing, retail (curbside pickup), wholesale trade, agriculture, forestry, fishing and hunting.
There are currently 1,563 confirmed cases of COVID-19 and 64 fatalities in Ulster County.
For additional information about COVID-19 visit: https://ulstercountyny.gov/coronavirus
Ulster County COVID-19 Hotline: 845-443-8888
NYS Coronavirus Information Hotline: 888-364-3065
###