County Executive Ryan announces Ulster County Recovery Task Force initiatives, a new self-diagnostic testing program through Rite Aid in Kingston, and the availability of antibody testing for Ulster County first responders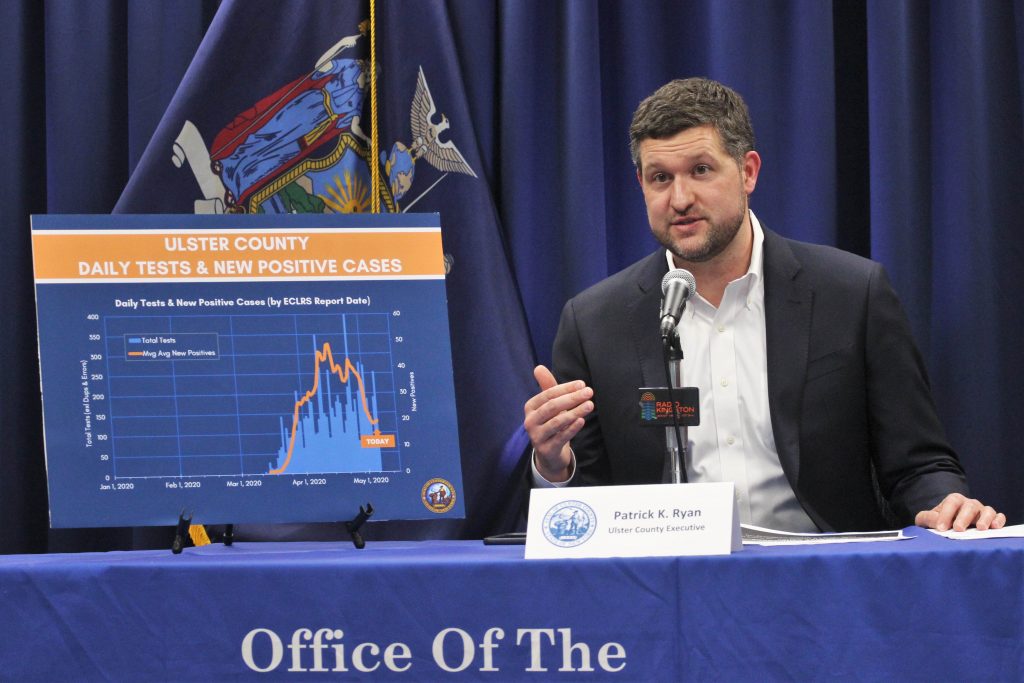 KINGSTON, N.Y. – Ulster County Executive Pat Ryan today held a live briefing on COVID-19. In his address, County Executive Ryan stated that Ulster County has now turned a corner in its response to the COVID-19 pandemic. He also outlined a number of priorities of the Ulster County Recovery Task Force, announcing programs to combat the opioid crisis, support mental health and wellness, and housing. This includes initiatives focusing on combating the opioid crisis, launching the Generation to Generation program to support the well-being of seniors, and an update on the Tenant Protection Unit. 
"For the first time in over two months I feel confident in saying that we have turned the corner here in Ulster County," County Executive Pat Ryan said. "We are not through it yet, but we have absolutely turned the corner and that's all thanks to everyone that has done their part to follow the PAUSE order, to do social distancing, to wear masks, all the things that we've asked, so thank you. We still have a lot of work ahead but I'm more optimistic than I've been in awhile."
County Executive Ryan announced that Ulster County has seen non-lethal opioid overdoses increase by a third in comparison to this time last year. However, despite this increase, the rate of overdose fatalities has not increased and is consistent the past two years. In partnership with the Ulster County Recovery Task Force, the Ulster County Healing Communities Narcan Work Group members have developed a county-wide virtual training model, which includes several partnerships with local community agencies for Narcan delivery and safe pick up options throughout the county. Since April 21st, these groups have held four virtual trainings, distributing more than 50 kits across Ulster County thus far.
"Opioid addiction and usage was already a challenge prior to COVID and as expected we have seen preliminary data that has shown an increase in usage," County Executive Pat Ryan said. "As County Executive, one of my top priorities is tackling the opioid epidemic and we are going to continue to do everything that we possibly can to help those struggling."
Group members are also partnering with Ulster County, to begin offering "on the spot" safe distance Narcan trainings at various PPE pick up locations in Kingston. Samadhi will also continue to provide Peers to Health Alliance Emergency rooms, and at our county jail through their MAT program and has received $50,000 in funding. Additionally, Ulster County will continue to utilize the funding through the Columbia University HEALing communities study and have hired 2 full-time employees to help connect and amplify the current work of the Substance Use Disorder organizations in Ulster County. This funding will be applied directly to programs to help them increase their capacity. The county is also working with Family of Woodstock to provide transportation services for Ulster Regional Opioid Court defendants in need of transportation and linkages to care for the 90-day duration of their Opioid Court tenure and has received $21,000 in funding.
First announced as a part of County Executive Ryan's State of the County address, Ulster County Office for the Aging's Generation to Generation program connects senior citizens and high school students for the purpose of forging meaningful connections and ultimately documenting the living history of Ulster County's senior community. This project will now be conducted remotely to protect our health while simultaneously engaging our seniors in much needed social interaction. Students will interview seniors and then learn video editing skills to create curated memories for the community to share. Interested volunteers can sign-up here. 
The COVID-19 Tenant Protection Unit will also work closely with the taskforce. The new unit was created to exclusively review tenant complaints related to COVID-19 and has already responded to over 80 problems and inquiries by phone and email. The COVID-19 Tenant Protection Unit, staffed by members of the Ulster County Public Defender's Office, assures that tenants' rights are being protected through Governor Andrew Cuomo's "New York on Pause" order, which put all commercial or residential eviction under a moratorium which has been extended until August 20th. To make a tenant complaint, residents should call 845-340-3232 or visit here.
Additionally, County Executive Ryan announced that HealthAlliance is now offering voluntary COVID-19 antibody testing to first responders at their Broadway Campus. The antibody testing may show if you have ever been infected with the virus, even if you didn't have symptoms. This test does not take the place of testing that is currently being conducted in our testing tents for active infection, which we will continue to offer to community members who are experiencing symptoms of COVID-19.
Interested First Responders may call 845-303-2730 from 8:30 a.m. – 6:00 p.m. Monday through Friday and 9:00 a.m. – 5:00 p.m. on Saturday and Sunday to schedule appointments. Once scheduled, First Responders will be asked to enter through the Broadway Campus Main Entrance by the Emergency Room where they will be screened and escorted to the testing location for their appointment.
County Executive Ryan also announced that Rite Aid will be opening a Drive Thru testing location in the City of Kingston. Rite Aid has been working with the U.S. Department of Health & Human Services to establish Drive Thru Testing locations in a number of the states utilizing the Nasal Self Swab COVID-19 Testing concept. FEMA is supplying the Nasal Self Swab COVID-19 test kits. The participating Rite Aid is located at 351 Flatbush Avenue, Kingston. Testing at this location will begin on Monday, May 11th.
The testing will operate under the following guidelines:
Testing will begin on Monday, 5/11/2020. 
Testing will be free of charge to patients.
Testing is still by appointment only via www.riteaid.com. Scheduling of appointments will begin on Sunday May 10, 2020. 
Rite Aid recently expanded its testing criteria. Testing will include all individuals over the age of 18 with or without symptoms.
A Rx from a doctor or health care provider will not be required.
Instead of using tents located in our parking lots like previously done, patients will arrive and come through the pharmacy drive through where they will receive a test kit through the drive through drawer. Testing will be completed in the confines of the patient's car, sealed by the patient, and then handed back to the Rite Aid pharmacists through the drawer. Alternatively, some sites may use a drop box type kiosk for testing to be deposited and collected by Rite Aid personnel to minimize contact. 
Rite Aid will be utilizing the self-swab nasal tests.
Clinical oversight for the COVID-19 testing program is provided by PWNHealth, a national clinician network that enables safe and easy access to diagnostic testing.
Rite Aid has partnered with Verily and will use its Baseline COVID-19 Program to provide screening, scheduling, and return of results to participants at Rite Aid testing sites.
Bio-Reference Labs will be doing the testing and reporting all results to NYDOH and County Health Departments. 
At present, each site will have the ability to conduct 50 -100 tests per day.
There are currently 1,474 confirmed cases of COVID-19 in Ulster County and 51 fatalities.
To watch the live briefing on Facebook Live, please visit:
For additional information about COVID-19, please visit:
https://ulstercountyny.gov/coronavirus
Ulster County COVID-19 Hotline: 845-443-8888
NYS Coronavirus Information Hotline: 888-364-3065
###