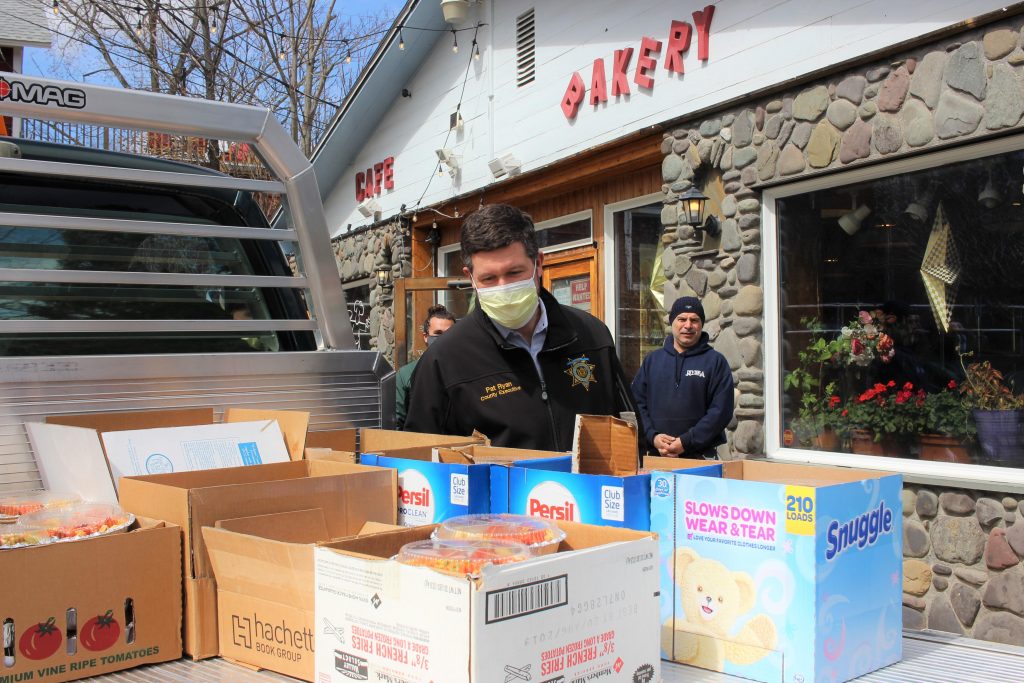 Over 1,000 community members have made donations to Project Resilience
In only seven weeks nearly 10,000 individuals have received meals
KINGSTON, N.Y. – County Executive Ryan announced today that since standing up Project Resilience, it has provided over 100,000 meals to Ulster County individuals and families impacted by COVID-19. Launched in March, Project Resilience is a community fund and local food distribution effort that was established to support residents impacted by COVID-19. Project Resilience has also helped support over 100 small businesses, enabling them to keep their doors open and maintain staff.
"Serving our 100,000th meal is a major milestone for Project Resilience. In just seven weeks, we have shown what the wave of goodwill from across our county can do," County Executive Pat Ryan said. "This initiative has highlighted not just the resilience of our community, but also our compassion and generosity. After seeing our community step up and respond in this way, I'm fully confident that we can and will emerge from this crisis even stronger than we were before."
"The Project Resilience Program is a win-win for the community and for businesses," Owner of Maria's Bazaar Marwan Rzek said. "This effort has allowed us to keep our doors open and help our community. I want to thank County Executive Ryan, Supervisor Bill McKenna, and all of the volunteers who are helping to feed our community."
"Project Resilience has been a lifeline not only for our community but for the small local businesses that participate," Owner of Reginato Ristorante Kevin and Stephanie Reginato said. "This program has helped keep our staff employed with a sense of purpose and that's invaluable in this uncertain atmosphere. Thank you County Executive Pat Ryan and your dedicated staff."
"Project Resilience has been one of the most rewarding programs we've been involved with during this challenging time," Owner of Bistro-to-Go Mary Erickson said. "Not only has it helped our business stay afloat, it also gives us a deep sense of satisfaction to know we are providing delicious, nutritious food to those in need in our Hudson Valley community. We are honored to be a part of this program and thank Ulster County for helping meet the needs of its residents in this important way."
Within 24 hours of its inception, County Executive Ryan secured over $2 million dollars in funding and announced partnerships with municipal governments, local businesses, and not-for-profits. Through the United Way, over 1,000 small individual donors in the community have raised over $180,000. Project Resilience has also received large contributions from the following charities and foundations:
Central Hudson – $25,000.00
The Dyson Foundation – $20,000.00
AT&T –$10,000
Ulster Savings Charitable Foundation – $10,000
Mid-Hudson Valley Credit Union – $5,000
Wallkill Valley Federal Savings & Loan – $5,000.00
Bank of America – $2,000.00
The Mary Jane H and Peter J DaPuzzo Family Foundation – $2,500.00
Ulster County Italian American Foundation – $1,000.00
The T. Rowe Price Program for Charitable Giving – $1,000.00
Junior League of Kingston JLKNY – $1,000
Trinity Episcopal Church – $1,000
John and Carolyn Keith Charitable Fund – $800.00
Berkshire Hathaway Nutshell Realty – $500
Exago Inc – $500
The Reis Group Casciaro – $500
There are currently 1,414 confirmed cases of COVID-19 and 44 fatalities in Ulster County.
For additional information about COVID-19 visit: https://ulstercountyny.gov/coronavirus
Ulster County COVID-19 Hotline: 845-443-8888
NYS Coronavirus Information Hotline: 888-364-3065
###