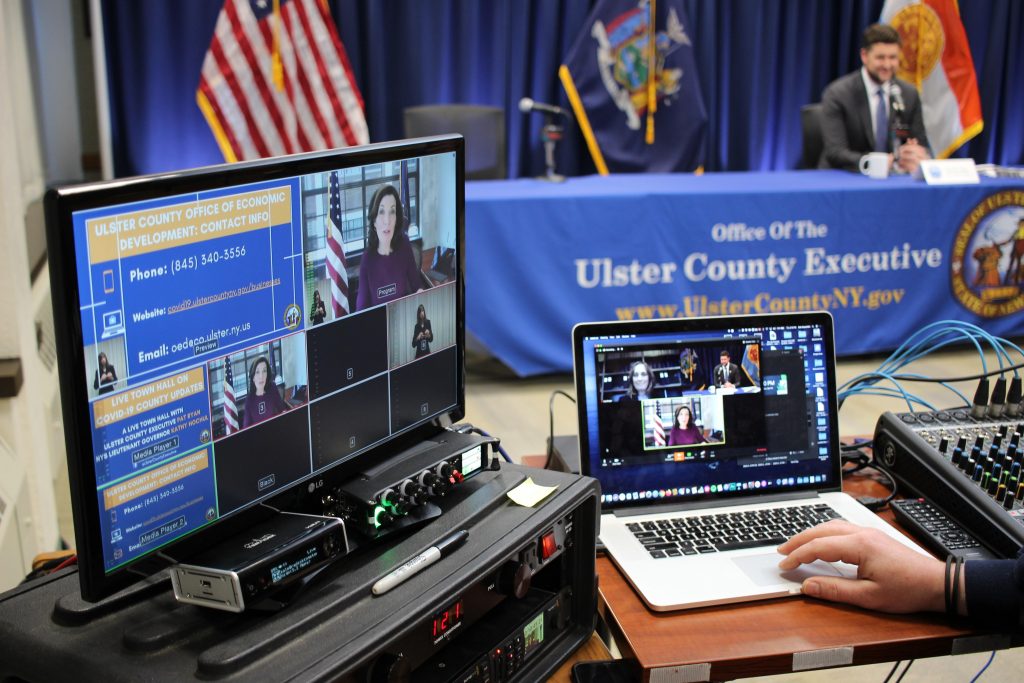 County Executive Ryan and Lieutenant Governor Hochul held a small business town hall joined by nearly 500 business owners updating them on support for local businesses during COVID-19
KINGSTON, N.Y. – Ulster County Executive Pat Ryan and Lieutenant Governor Kathy Hochul today held a Small Business Town Hall that was joined by nearly 10,000 people to update them on the County's response to COVID-19 and support available for Ulster County small businesses. Ulster County Executive Ryan and Lieutenant Governor Hochul took questions from the small business community ranging from mask requirements for essential workers to updates about applying for state and federal loan programs. They were also joined by Meghan Taylor, Vice President and Regional Director Mid-Hudson for Empire State Development, and Lisa Berger, Ulster County Director of Economic Development, who helped answer businesses' questions. The Small Business Town Hall was simultaneously broadcast through Zoom and Facebook Live. This is the County Executive's twelfth Town Hall.  
"Locally owned small businesses are the lifeblood of our Ulster County economy," Ulster County Executive Pat Ryan said. "As a former business owner myself, I know firsthand how hard it can be to run and maintain a business under regular circumstances. My office along with our Economic Development team, will continue to do everything that we can to aid and assist our businesses during this difficult time. I want to thank Lieutenant Governor Kathy Hochul for joining us and being a champion for Ulster County and a leader for our state."
"We are focused on reopening our economy in a way that does not increase our infection rate and erase our progress," said Lieutenant Governor Kathy Hochul. "Our efforts as part of New York PAUSE are working, and we want to continue to help protect New Yorkers and save lives. At the same time, we are working on a plan to phase in the reopening of our businesses across the state. We know many businesses and individuals are being impacted by the virus, and we want to make sure they get the resources and support they need now and in the future. I want to thank Ulster County Executive Pat Ryan and others for their efforts and partnership. This will be a coordinated effort between our local governments and other states to operate in the best interest of all New Yorkers and Americans."
Ulster County businesses are encouraged to reach out to the Ulster County Department of Economic Development and go to the Ulster County COVID-19 Virtual Center to view state and local resources for businesses found here. 
Earlier this week, County Executive Ryan announced that Ulster County has offered assistance to neighboring counties' including Dutchess, Columbia, and Greene counties. Already, Ulster County has provided hundreds of face shields, surgical gowns, and testing kits to these regions.
There are currently 845 confirmed cases of COVID-19 in Ulster County and 15 fatalities.
To watch the Town Hall on Facebook Live, please visit:
For additional information about COVID-19, please visit:
https://ulstercountyny.gov/coronavirus
Ulster County COVID-19 Hotline: 845-443-8888
NYS Coronavirus Information Hotline: 888-364-3065
###