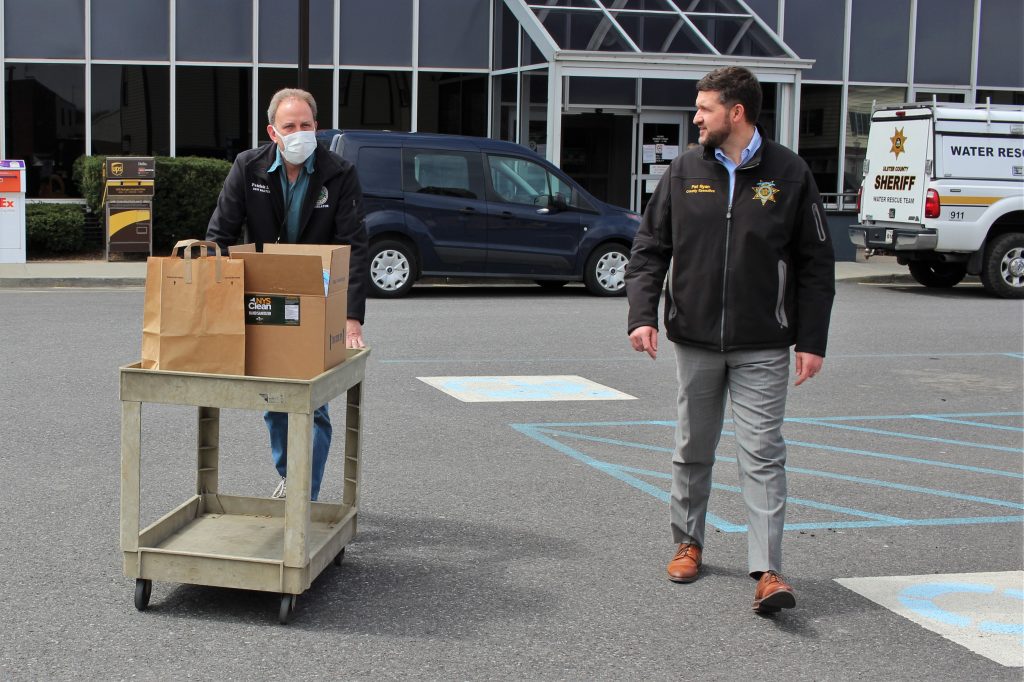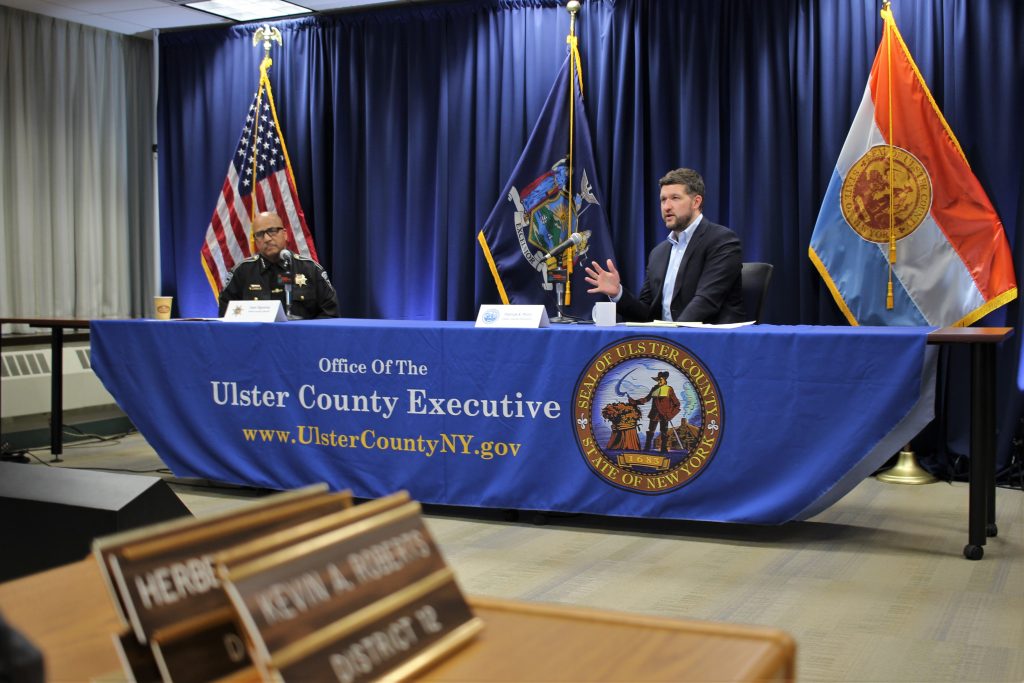 County Executive Ryan provides needed supplies for Dutchess, Columbia, and Greene Counties
Ulster County has provided hundreds of face shields, surgical gowns, and testing kits
KINGSTON, N.Y. – County Executive Pat Ryan today announced that Ulster County has offered assistance to aid in neighboring counties' response to COVID-19. Ulster County Executive Ryan extended help to Dutchess, Columbia, and Greene counties and has maintained close partnership with all neighboring counties in coordinating their response. Already, Ulster County has provided hundreds of face shields, surgical gowns, and testing kits to these regions. The announcements came as he held his eleventh Facebook Live Town Hall alongside Ulster County Sheriff Juan Figueroa. With nearly 5,000 viewers and over 200 submitted questions, County Executive Ryan and Sheriff Figueroa discussed questions ranging from social distancing on the rail trail to virtual court proceedings.
"This virus does not respect our arbitrary county borders, and neither can our response. To protect the health and safety of our area, we must aid our neighbors whenever possible," Ulster County Executive Pat Ryan said. "The response to COVID-19 illustrates that we are all in this fight together. As County Executive, I will continue to collaborate with others to find new, creative solutions to combat this virus."
"I would like to thank Ulster County Executive Pat Ryan for helping out Greene County and protecting the residents of our region," Chair of the Greene County Legislature Patrick Linger said. "The test kits donated today will be used to protect our most vulnerable populations in our nursing homes."
During the Town Hall, County Executive Ryan and Sheriff Figueroa discussed the partnership with the Ulster County Sheriff's Office and the County Police Chiefs Association Ulster County's "New York State on Pause" complaint form which is referred directly to the New York State PAUSE Enforcement Assistance Task Force. This concerted effort will ensure county residents and businesses are following appropriate protocols to help save lives. The form is now available on the County's COVID-19 website found here. Residents can complete the form to file complaints of non compliance of the state's mandated social distancing guidance. They can also file irresponsible business complaints there. Individuals can file complaints regarding the operation of non-essential businesses or gatherings 24 hours a day, 7 days a week through an online form or by calling 1-833-789-0470.
There are currently 745 confirmed cases of COVID-19 in Ulster County and 13 fatalities.
To watch the Facebook Live Town Hall, please visit:
For additional information about COVID-19 and the mobile testing process, please visit: https://ulstercountyny.gov/coronavirus
Ulster County COVID-19 Hotline: 845-443-8888
NYS Coronavirus Information Hotline: 888-364-3065
###
(1- From Left to right, Greene County Legislative Chairman Patrick Linger and Ulster County Executive Pat Ryan deliver PPE and testing kits)
(2- From left to right, Ulster County Sheriff Juan Figueroa and Ulster County Executive Pat Ryan)