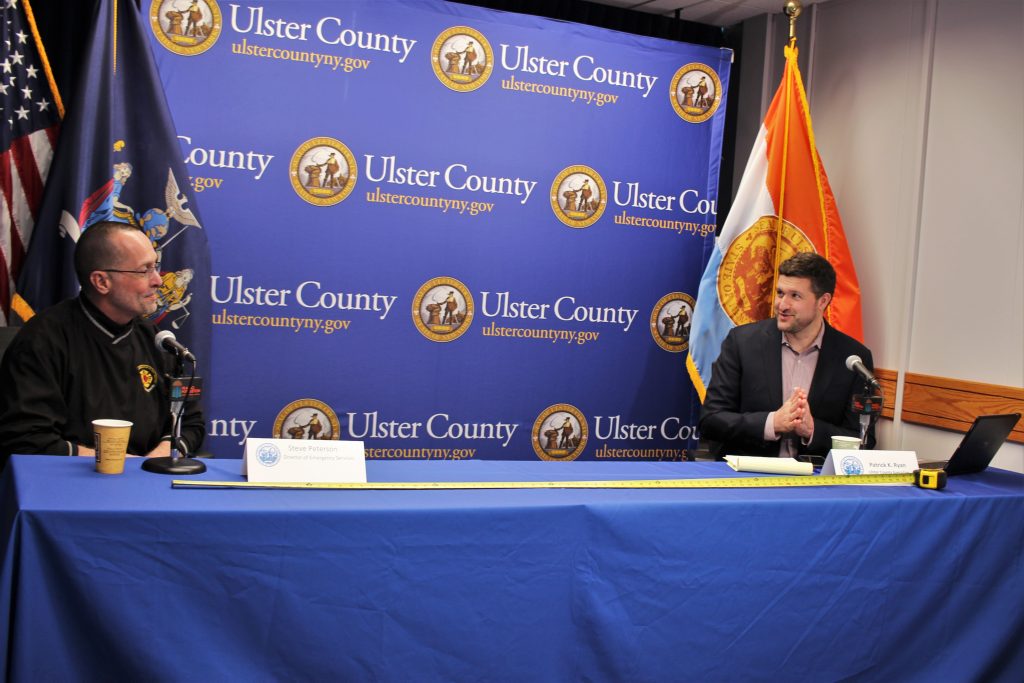 County Executive Ryan and Ulster County Director of Emergency Services Steve Peterson hold virtual town hall to update residents on the County's response to COVID-19
County Executive Ryan continues to urge social distancing and discusses plans to increase hospital and treatment capacity in Ulster County
KINGSTON, N.Y. – County Executive Pat Ryan held his seventh Facebook Live Town Hall alongside Ulster County Director of Emergency Services Steve Peterson today to update residents on Ulster County's response to COVID-19. They received nearly 200 questions and directly answered residents' concerns ranging from protections for frontline healthcare workers to surge hospital capacity.
"As we continue to see COVID-19 cases increase across the county, I strongly urge residents to take this threat seriously," County Executive Pat Ryan said. "Stay home, follow our guidelines for social distancing, and call your doctor or our hotline if you're experiencing symptoms. Don't just think about yourself, consider your neighbors – especially the most vulnerable members of our community."
In anticipation of continued growth in COVID-19 cases, County Executive Ryan has stood up a team to develop detailed plans for increasing hospital and treatment capacity in Ulster County.
"We know, based on what we're seeing in New York City and around the world, that we have a wave coming and we're pushing hard to get ahead of that wave," County Executive Pat Ryan said. "We need to quadruple our current capacity. That will be a real challenge for us, but I'm confident we can get there."
Working with local hospitals and other community partners, Ryan said they have been scouting sites throughout Ulster County. Additionally, local hospitals have committed to increasing their current capacity by at least 50% to accommodate additional needs due to the outbreak of COVID-19.
There are currently 112 confirmed cases of COVID-19 in Ulster County.
To watch the Facebook Live Town Hall, please visit:
For additional information about COVID-19 and the mobile testing process, please visit: ulstercountyny.gov/coronavirus
Ulster County COVID-19 Hotline: 845-443-8888
NYS Coronavirus Information Hotline: 888-364-3065
###
Photo: (Left to right) Ulster County Director of Emergency Services Steve Peterson and County Executive Ryan