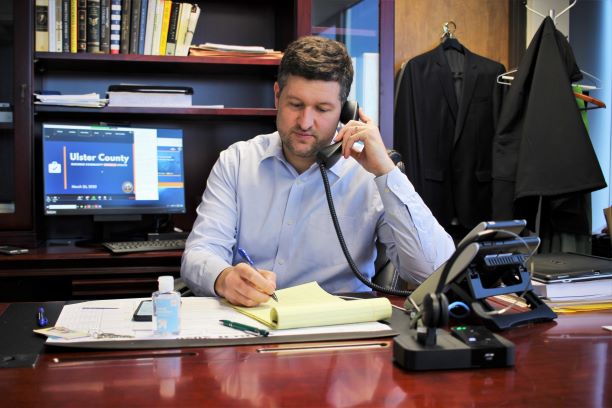 Shop Ulster Saturday to encourage residents to virtually support Ulster County small businesses
County Executive Ryan held a small business webinar today joined by nearly 400 business owners updating them on support for local businesses during COVID-19
County Executive Ryan reminds business owners that he has enacted a 30 day grace period for occupancy tax to relieve financial stress on hotel and tourism industry
KINGSTON, N.Y. – Ulster County Executive Pat Ryan today held a small business webinar that was joined by nearly 400 business owners to update them on the County's response to COVID-19 and support available for Ulster County small businesses. This is his second small business webinar since the outbreak of COVID-19. Ulster County Executive Ryan has also proclaimed this Saturday, March 28th, as "Shop Ulster Saturday," in a joint effort with the Ulster County Regional Chamber of Commerce to support business impacted by COVID-19 by purchasing online gift certificates. Last week, County Executive Ryan announced a 30 day grace period for occupancy tax to relieve financial stress on the hotel and tourism industry.
"Locally owned small businesses are the lifeblood of our Ulster County economy and it is especially important that we show them our support during the COVID-19 crisis. Even though their front doors are closed to shoppers, their virtual doors are wide open," County Executive Ryan said. "We are urging everyone in Ulster County to go online this Saturday and purchase a gift card from one of our many great local stores, shops and restaurants and then use that card later in the year or give away as a gift for a birthday, anniversary or even during the holidays. The important thing is to make that purchase today."
"Thank you County Executive Ryan for your commitment to local small businesses," Ulster County Regional Chamber of Commerce President Ward Todd said. "Now is the time to roll out your virtual red carpets and welcome online shoppers, either through special incentives, BOGOs, or anyway you can make it easier for shoppers to buy your goods, products or services."
Ulster County businesses are encouraged to reach out to the Ulster County Department of Economic Development and go to the Ulster County COVID-19 Virtual Center to view state and local resources for businesses found here. Earlier this month, Ulster County launched Project Resilience, a community fund and local food distribution effort to support residents impacted by COVID-19. The County secured over $2 million in funding in 24 hours, and will utilize UCAT and partner with non-profits and municipalities to deliver meals to local distribution centers. This new initiative helps residents in need and simultaneously provides support to small businesses. Ulster County is partnering with United Way and many other area organizations and businesses to mobilize food and services. Since standing up Project Resilience last week, 1,154 individuals/households have requested assistance, 4,715 meals have been delivered, 13 local teams have been established to distribute meals, and 98 restaurants have signed up.
Ulster County Regional Chamber of Commerce is also urging chamber members to post their specials on Facebook or other forms of social media. The Chamber has already created a new Facebook Group, 'Ulster Eateries United' to showcase the hundreds of area restaurants who are offering take out or delivery options and a second Facebook Group, 'Ulster Small Businesses United' to promote the many small businesses that are open and providing essential services to their customers.
There are currently 93 confirmed cases of COVID-19 in Ulster County.
Tomorrow County Executive Ryan will be joined by Commissioner of Health Carol Smith for his seventh Live Facebook Town Hall on COVID-19 at 2:00 p.m.
RSVP to Shop Ulster Saturday:
facebook.com/events/2376851785948351/
For additional information about COVID-19:
ulstercountyny.gov/coronavirus
Ulster County COVID-19 Hotline: 845-443-8888
NYS Coronavirus Information Hotline: 888-364-3065
###