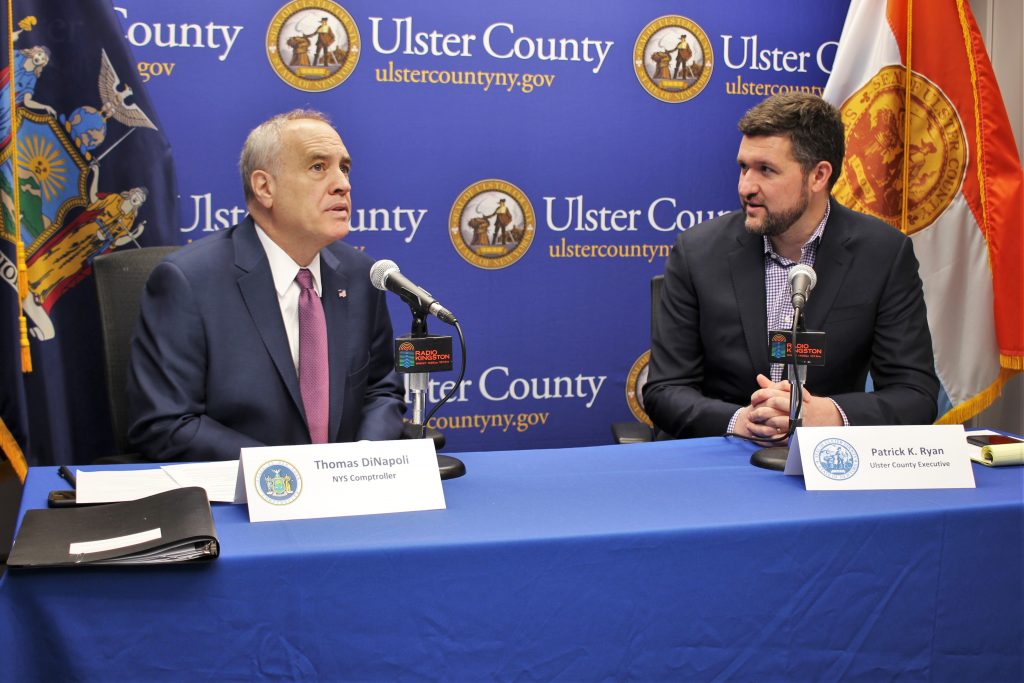 County Executive Ryan and New York State Comptroller Thomas DiNapoli share information about how COVID-19 is impacting the New York State and local economy
County Executive Ryan announces additional PPE supplies from Governor Andrew Cuomo
KINGSTON, N.Y. – County Executive Pat Ryan held his sixth Facebook Live Town Hall today with New York State Comptroller Thomas DiNapoli to update and inform residents on Ulster County's and the State Comptroller's Office response to COVID-19. County Executive Ryan and Comptroller DiNapoli received nearly 400 questions from residents ranging from the testing process to questions about the state retirement system. This was his second Town Hall that was also simultaneously broadcast in Spanish.
"As we continue to see more COVID-19 cases, we are pushing hard to add additional hospital capacity and acquire the PPE we need for those on the front line of this epidemic," Ulster County Executive Pat Ryan said. "I would like to thank Governor Cuomo for delivering much needed supplies and I would also like to thank Comptroller DiNapoli for helping us prepare to navigate the fiscal impact of this crisis."
"At this time of crisis, people are feeling isolated, and these town halls are a wonderful venue for communication, for community and for sharing, which are key," New York State Comptroller Tom DiNapoli said. "We are going to get through this and I look forward to working with Ulster County Executive Pat Ryan to make sure Ulster gets through it as quickly as possible and comes out of it even stronger than you were before."
County Executive Ryan thanked Governor Andrew Cuomo for providing additional PPE resources. Thanks to the Governor, Ulster County has added 2,900 N95 masks, 7,300 surgical masks, 3,000 gloves, 1,200 gowns, and 669 face shields.
County Executive Ryan also shared that since standing up Project Resilience last week, 850 individuals/households have requested assistance, 2,775 meals have been delivered, 13 local teams have been established to distribute meals, and 90 restaurants have signed up.
Earlier this week, County Executive Pat Ryan shared additional information about Ulster County's first drive-through mobile COVID-19 testing site located at Tech City. County Executive Ryan plans for a second site to open in Ellenville by March 31st. The site, operated in partnership with Nuvance Health, will add significant testing capacity and streamline the process for residents to be safely tested.
Tech City is located at 300 Enterprise Drive, Kingston, NY 12401. The testing site is currently slated to be open Monday through Saturday, 8:30 AM to 3:30 PM by appointment only. Traffic message boards have been placed along entry routes (both Enterprise Drive and Boices Lane) to direct individuals.
There are currently 70 confirmed cases of COVID-19 in Ulster County.
To watch the Facebook Live Town Hall, please visit:
To watch the Facebook Live Town Hall, please visit:
For additional information about COVID-19, please visit: https://ulstercountyny.gov/coronavirus
Ulster County COVID-19 Hotline: 845-443-8888
NYS Coronavirus Information Hotline: 888-364-3065
###