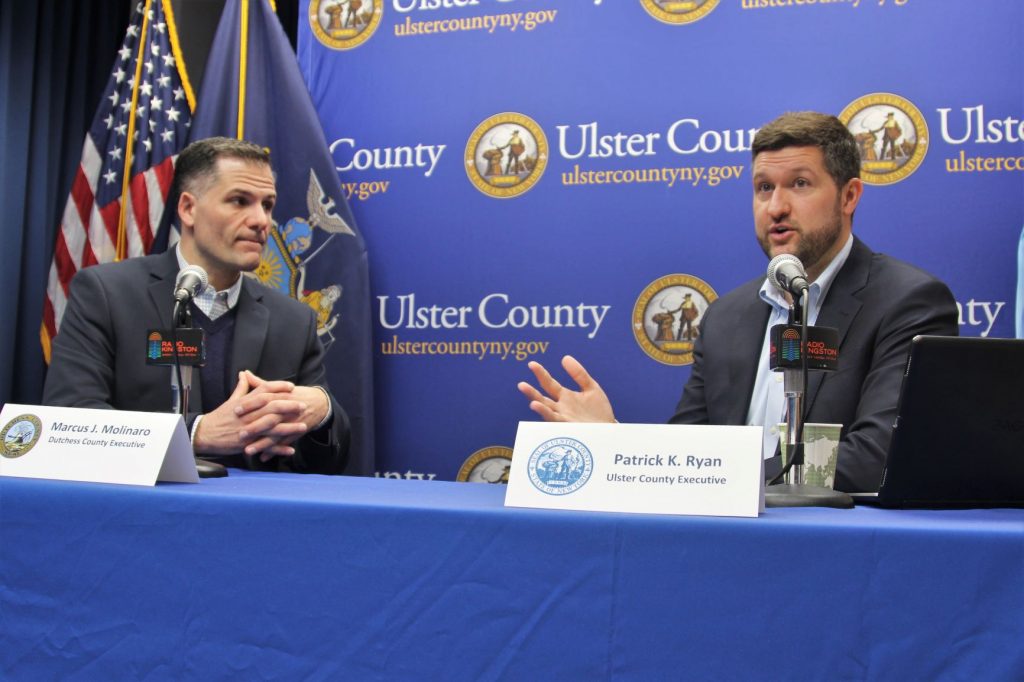 County Executive Ryan and County Executive Molinaro hold a joint virtual town hall to inform residents of how the Counties are working to respond to COVID-19
County Executive Ryan announces 15 confirmed positive cases in Ulster County
KINGSTON, N.Y. – County Executive Pat Ryan and Dutchess County Executive Marc Molinaro held a Facebook Live Town Hall today reaching over 10,000 participants to update residents on how the two Counties are working together to respond to COVID-19. County Executive Ryan and County Executive Molinaro directly answered residents' questions ranging from support for elderly and disabled individuals to the process for applying for unemployment assistance.
"Our entire team is working non-stop to stay ahead of the spread of COVID-19, and I know County Executive Molinaro and his team are doing the same in Dutchess County. I'd like to thank him for the continued close coordination between our counties, and reassure our residents that we're doing all we can to keep everyone safe and healthy," Ulster County Executive Pat Ryan said. "As we continue to bolster our testing capacity we expect to see the number of confirmed positive cases increase. Adding more capacity, between our County medical staff and the mobile testing sites due to come online next week, will enable us to better treat those affected and slow the spread of COVID-19."
As Ulster County continues to work to address COVID-19, County Executive Ryan is also standing up programs to help families and businesses deal with financial hardship. Ulster County announced Project Resilience, a community fund and local food distribution effort to support residents impacted by COVID-19. Project Resilience has identified nearly 400 available daycare slots, and will use funds from the community fund to ensure these critical workers are guaranteed child care. Since launching Project Resilience on Tuesday, over 60 restaurants have signed up to participate and hundreds of residents have requested meal assistance from every corner of Ulster County.
In addition, County Executive Ryan announced a 30-day grace period for all hotels and lodging facilities on payment of their occupancy tax in order to help those struggling financially due to the financial impacts of COVID-19. County Executive Ryan announced yesterday that the County will ramp up testing efforts by adding a mobile testing facility starting next Monday, March 23rd. County Executive Ryan last week declared a State of Emergency. He also directed the closure of all County schools and that the County suspend in-person County services for a two-week period.
There are currently 15 confirmed cases of COVID-19 in Ulster County.
To watch the Facebook Live Town Hall visit: https://www.facebook.com/UlsterCountyExecutive/videos/218211199394524
For additional information about COVID-19 and complete daycare guidelines visit: https://ulstercountyny.gov/coronavirus
Ulster County COVID-19 Hotline: 845-443-8888
NYS Coronavirus Information Hotline: 888-364-3065
###
Attached: (Left to right) Dutchess County Executive Marc Molinaro, Ulster County Executive Pat RyanLive-stream video of the town hall can be found here