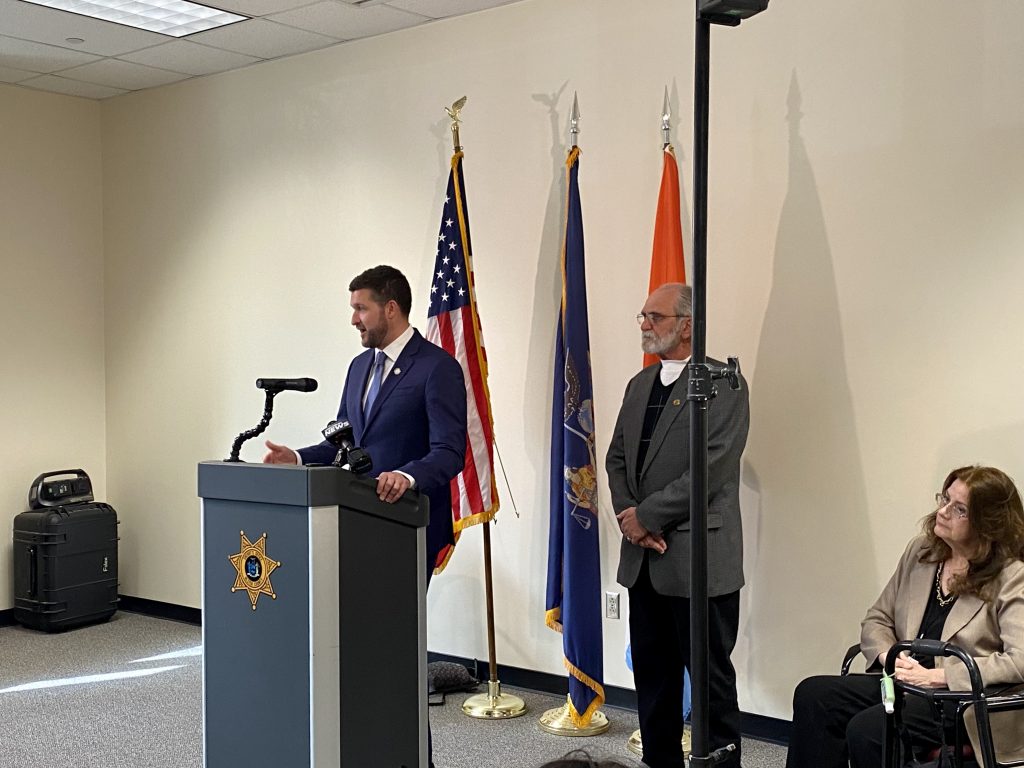 You can find the full video of County Executive Ryan's COVID-19 briefing today at the Law Enforcement Center here and here
Second Positive COVID-19 Case in Ulster County
Commissioner of Health Announces Additional Precautions
"In response to our second positive COVID-19 case, Ulster County is taking additional precautions to ensure public health and safety out of an abundance of caution. First, Ulster County Health Commissioner Dr. Carol Smith is issuing additional guidance to protect our most vulnerable residents. Second, due to potential contact between the affected individual and employees of the Wallkill Central School District, our Health Department has recommended closing the district through the weekend to allow for cleaning and disinfecting of the facilities. We will continue to closely monitor developments on the ground and make all decisions based on new data as the situation develops. I am fully confident in our collective response as a County and community, and appreciate the continued resilience and patience of our residents." – Ulster County Executive Pat Ryan
"For weeks Ulster County has been preparing and refining our response to COVID-19 while updating the public and community leaders daily as the situation unfolds. Residents should continue to exercise caution, but I must stress that this is not a cause for panic. Based on new developments in the County, we are recommending that all nursing homes and assisted living facilities within the county cease visitation for at least the month of March. We also ask that all residents who are at higher risk – in particular seniors and those with chronic medical conditions – take necessary precautions such as avoiding large gatherings and public events. We encourage organizers of events in the County, to contact our Health Department for guidance or with questions. We have established a form on our website that you can fill out to facilitate this process. For physicians, school districts, and those who feel they may be exposed or are experiencing symptoms, call our new COVID-19 hotline at 845-443-8888* or visit our website ulstercountyny.gov/Coronavirus for more information." – Commissioner of Health and Mental Health Dr. Carol Smith
Residents should continue to take the following steps to help minimize and contain potential exposures. These include preventative measures, such as:
Washing hands with soap and water frequently, for at least 20 seconds, especially before eating
Avoiding touching surfaces in public spaces, whenever possible
Avoiding touching eyes and mouth
Always covering a cough or sneeze with a tissue or a sleeve, rather than your hands and dispose of the tissue in the trash
Staying home if sick, except to seek medical attention, to avoid infecting others
Getting the flu shot if you have not done so already
Helping to keep your immune system strong by getting enough sleep and reducing stress
Coronavirus symptoms can include fever, cough, fatigue, trouble breathing and pneumonia. These symptoms can also be seen in season flu and other coronavirus infections. CDC believes that at this time symptoms of coronavirus infection may appear in as few as two days or as many as 14 days after exposure. If you suspect that you or anyone in your family may have been exposed to coronavirus through travel to affected areas or are experiencing symptoms, please contact your medical provider immediately.
###
*Please note this phone number has been corrected from the previous release. The hotline number is 845-443-8888. We regret this error.
Attached: Picture (from left to right): County Executive Pat Ryan, Ulster County Legislature Chairman David Donaldson, Ulster County Commissioner of Health and Mental Health Dr. Carol Smith
Video link: Ulster County Executive Pat Ryan holds a briefing on the second positive COVID-19 case in Ulster County and additional precautions the County is taking.